Mt Vernon Campground – Bow, Washington
Our First Journal Entry
Our journal posts are by campground / RV park. As stated earlier, posts are essentially a journal of our  experiences while traveling with our travel trailer. The journal is essentially a record for us to refer back to when when considering destinations.
The Campground
This is our first Thousand Trails experience. The RV park is in a nicely treed area north of Mt Vernon, WA. Appropriately named 'Mt Vernon Campground,' this park is more like a state campground than a typical RV park. The campground is rather remote, proximity to Seattle is further than we had thought it would be. The GPS led us astray on our arrival, leading us down a very narrow winding road with no place to turn around until we eventually came to a small park. The park seemed a bit odd, nice little grassy park along a stream with playground equipment  and a good sized parking area. The odd thing is that the park was so remote, nothing else around for miles.
Arrival was typical. Covid-19 of course changed things somewhat from what the normal procedure is, but basically was still get the windshield id, a short orientation, and receive typical RV park papers including a campground map. Sites are reserved but still first come first served site selection.
Sewer sites were all full on arrival, so we opted to take a site (A34) and move to a sewer site (A44) which would be available two days later.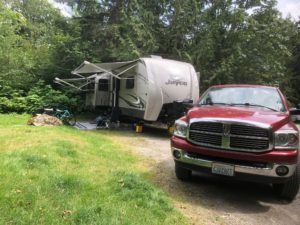 Pros:
Treed, natural setting
Private Sites
Hiking Trails
Cons:
Road Noise
Limited Sewer Hookup Sites
Very Dusty Road Through the Campground
Connectivity
Cell: 2 bars, calls, texts, phone internet, hotspot, all acceptable
TV:  9 Channels, no networks
Streaming: (Via Cell phone to TV)  Amazon- good image, somewhat jerky movement at times.  Netflix- Pixelized but watchable
Notes
Good Site Choices: A34, A45,  A46, A64, A72 (Sewer), A74 (Sewer) C10, C9, E10
Trail Access from A24, and between A19 and A24 (Not Marked) Between G8 and G11 (Marked), Between B49 and B50 (Marked)
After arriving and setting up, we checked out the hiking trails around the campground. We were pleasantly surprised with the trails, they were really nice.  Even found a gnome house!
Rabbits were everywhere in this campground!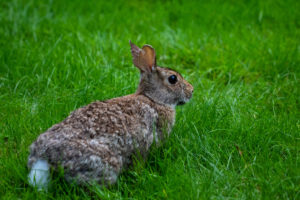 Our Experiences This Trip
Our activities during this trip can be viewed by clicking on the days listed below:
Final Thoughts
Our overall thoughts on this campground are mixed.  The first site we stayed at was a very nice spot.  We moved to have sewer hook-ups and the second site was not nearly as private.  The campers across the road from us were quite noisy and we were wishing we had stayed with the first site.  We could have managed without the sewer hook-up and avoided that frustration.
The area in general was more remote than we had anticipated.  It is a good spot for visiting Bellingham and possibly Anacortes.  Seattle is too far away to do much there.