Boise Riverside RV Park
We had stayed at Boise Riverside RV Park earlier when we came to Boise for the Northwest Tandem Rally in 2019.  When we changed our travel plans and extended our stay in Boise, the full hook-up sites were full.  The park has a dry camping area where we parked for the first three nights.  That area was quite pleasant, along a little stream in a shady grass area.
We were able to park the trailer and position our truck to create a nice spacious area.  This setting was much nicer that the pull through site A12 that we moved to after 3 nights.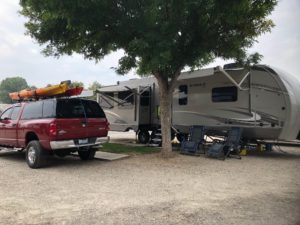 The RV park is not glamorous, but the location makes it a good choice for us as it is right on the Boise River Greenbelt which allows bike access to anywhere we want to go around Boise.  The park is pretty large, Map Here , and the amenities covered our needs of laundry and propane as well as available showers and restrooms.  Also bike rentals are available.  The staff is courteous although some were not bashful about displaying their political stance which was in contrast to our views.  Just part of the times we are living in currently.
WiFi here is terrible, can barely load a web page, but fortunately cell service with Verizon is good and we were able to use our hotspots with no issues.
This park does serve our needs and it is likely that when in the Boise area again we will use this park mainly because of its proximity to the Greenbelt.