Location
We stayed at Jackson Hole Campground, a Fireside Resort. The resort is located near Wilson, WY.  The park is about 4.5 miles from downtown Jackson.
When entering the resort, you pass by a row of cabins (tinyhomes) on either side of the roadway.
THen yo cross a bridge into the RV park area.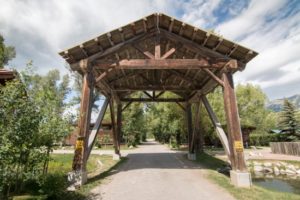 This all has a good feel to it.  Check-in went smoothly, the staff was very friendly and answered any questions.
The ammenities at this park seem to vary, and we are not clear on how the sites are labeled.  Our site had electric only, 50 Amp.  There was water on our site, but not for hookup as other campers use th faucet to fill their tanks.  We did however see some sites that appeared to have full hook-up services.  Our site was considered premium as were the other sites that appeared to have hookups.  We were in site 70
The park has laundry, clean restrooms and showers.  The sites are mostly pull-throughs and are very close together.  The RV parking areas are gravel, as are the roads through the park.  The sites are fairly level.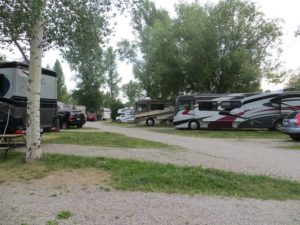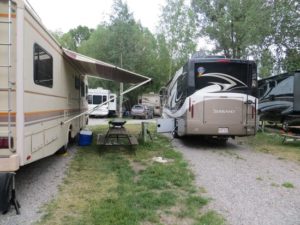 Connectivity
There is cable TV, but the WiFi is terrible.  Cell service is fair and handles hotspot connections well enough to satisfy internet needs.
Noise Level
Road noise is very minor compared to many RV parks we have stayed in.  The noise level from other campers is very low.
Conclusion
This park will suit our needs well as we are only here for a few days, so the electric only hook-ups will be ok.
Proximity to Jackson is good.  Our first venture out, the traffic leaving Jackson to return was horrible.  It was around 6:00 when downtown pretty much closes up.
Bike access from this park is great with paved trails heading North towards Moose as well as into Jackson.  From Jackson there is a paved trail all the way to Jenny Lake which is about 20 miles from Jackson.