An Early Start
We woke early and got out earlier this morning.  The traffic was significantly less, which made entry into the park much more pleasant.  The temperature was in the upper thirties and we noticed steam coming off Madison River as we drove along.
Our plan was to go to the Grand Prismatic Spring Overlook which is accessed by Fairy Falls Trailhead.  As we traveled towards the trailhead, noticing the steam coming off the river, we became aware that seeing Prismatic would likely not be realistic this morning.  The hot springs produce steam in warm temperatures, so colder temps create more steam.
This created a dilemma, attempt early before the crowds, or wait until the Disney crowd arrives.  We decided to try the overlook before we did our hike, which was in the same area.
Prismatic Attempt #2
The view was pretty much what we expected.
Sentinel Meadows Trail
Our hike today was Sentinel Meadows Trail.  We feel it should be named 'Bird Trail' because we saw more birds on this hike than we have seen anywhere else in the park.
Mountain Bluebirds were thick throughout this hike.  We also saw an a couple of American Kestrels!  We have been looking for one of those for a while, so that was pretty exciting.  Also a pair of Sandhill Cranes, also a new variety of bird for us.
A remote campsite was along this trail next to a nice stream, which was occupied by a huge flock of mountain bluebirds.  The campsite had a bear country food rack set up, but not firepit in this one.
We came across a stream that was a flowing hot spring, and several remote hot springs and geothermal features.  It was nice to be able to observe these features in a remote setting.
Of course we saw a bison, and of course, I took another bison picture.
Liz recorded 5.5 miles on her watch this hike.
Prismatic Success!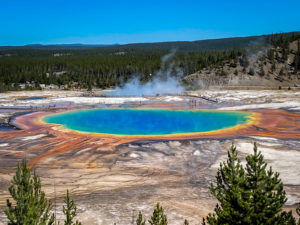 After our hike, we braved the crowds to see Grand Prismatic.  Cars were parked a half mile down the road on each side of the parking lots for the Fairy Falls Trailhead. We did drive in to the lot and were very fortunate to find a car pulling out and were able to park.
We donned our Covid masks and ventured out to the trailhead which resembled the crowds of Main Street Disneyland.  The hike to the lookout is about a mile round trip.  We got to the lookout and of course the battery for my camera was dead and I had not brought a spare with me for this walk to the lookout.
We took photos with Liz's iPhone, which came out pretty good.  I did have to crop them heavily in Lightroom, but they still do a good job of capturing the spring.
Today was great fun, getting away on our own!  We saw one other person on our hike and he seemed to be on a mission, so he trekked right past us and barely spoke.
An early start seems to be the answer to enjoying Yellowstone.