Whaler's Rest RV Park, South Beach, Oregon
Whaler's Rest is a Thousand Trails RV Park that  is located  about 6 miles south of Newport, Oregon on Hwy 101.
Arrival and Check-in
Out initial reaction at arrival was concerning. The gate booth was not attended and we were concened that it may be a repeat of South Jetty. The staff at te store was very helpful however and things progressed well from there. The "ranger" arrived and checked us in. She recommended site 84 after we suggested privacy was a priority for us.
We proceeded to site 84, (Map Here,) and decided that spot was not really great for the size of our trailer. As we were parked there discussing it, a member of the staff came by in a golf cart and stopped to help us. He recommended site 142. We moved to 142 which is a pull-through and set up there. Site 142 is a great site and very private, in fact this would probably be our first choice if we are here again.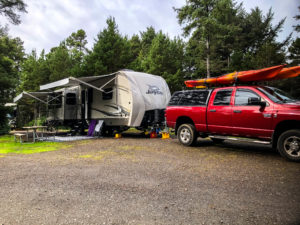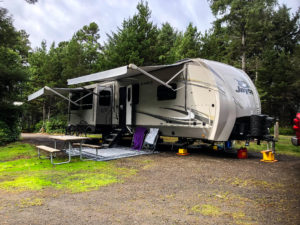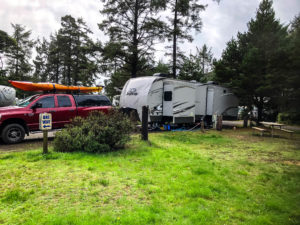 The sites in this RV park are separated with shrubberies and foliage in addition to it being a heavily treed park. The park is quite large with 174 sites but is arranged in a manner that it is not overwhelming. The loops are like little neighborhoods.
This park also has very nice "Getaway Cabins", which are a part of our Thousand Trails membership. We investigated the cabins thinking it might be interesting to do a winter trip here without the trailer.
Amenities
The park has good amenities, restrooms and showers are clean and the laundry room has enough equipment to handle the occupancy.
The laundry room has credit card setup which eliminated the need for bags of quarters.
There is a trail that leads out of the park to access the beach. You do have to cross 101 to access the beach, but there is parking at the beach if you want to take your car. Crossing 101 was not really a big deal however.
Connectivity
Connectivity at this park is the worst we have had on this trip. Cell service is not available and WiFi is a mystery. Our campsite is right next to the WiFi repeater, and when we first got set up, m cell phone worked great on wifi. My iPad worked great, and the computer connected and uploaded images with no issues.
As the first week progressed, my phone would no longer connect to the internet while the iPad was great. Then the iPad quit working, followed by Liz's iPad quit working. Interestingly my Macbook connects with no issues. The phone and iPads connect to the park WiFi, but says not connected. I do bot understand this, if internet is there as shown by the computer working, why will it not work on iPhone?
Connectivity is one of the things we have not figured out with RV travel. It is a constant issue and clearly I am going to have to do some research in that area.
Cable TV at this park does not appear to work, but there are 26 digital channels available through our antenna.
Conclusion
This RV park is a very good park with the exception of connectivity. That was definitely a frustration as we were here in the day leading up to the election and it was difficult to follow the news.
Bike access is fair. The shoulder on 101 is ok, but the traffic iw high. Access to Newport and South Beach does require about 4 miles on 101.
We would definitely return to this park in the future.