Arrival
Seaside RV Park This park is another Thousand Trails RV Park, and check-in was similar to Whaler's Rest. The gate house was attended here by a very helpful and friendly lady that explained the policies and gave us our packet. We proceeded to find our site and chose Site #92. The site was set up in a way that it was fairly private with the trailer backed up to a small stream and a barrier of trees behind us that the living room window looks out to.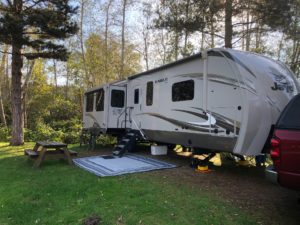 The Park
This RV Park has two sections (Map Here) with the check-in on the right side of the road at South Loop Entrance. The North Side Loop has 50 Amp electrical while the South Side Loop has 30 Amp. We opted to use the 30 amp connection because the sites in the South Loop were a much nicer setting. The North Loop had the RVs parked right next to each other with no privacy barriers whatsoever. Our trailer functions weel on 30 amps, the exceptions being that only one A/C unit can operate at a time and the fireplace will not operate on 30 amp.
Temperatures being what they are right now, we would clearly not be using A/C, and we have not experienced a need to operate both at the same time anyway. The fireplace would have been nice, but not worth the lack of privacy in the other loop.
Amenities
The park is very clean and has full hook-ups throughout. The North Loop has a nice park type setting as you drive in and the swimming pool facility, also in the North Loop, is a very nice indoor pool, although it was closed due to the pandemic.
Laundry and restrooms were clean. The clubhouse was closed as expected with Covid.
Cycling from the park is very good with easy access to the promenade and town as well as having the Greenwood Resources trails nearby and accessible by bike from the park.
Connectivity
Cell service here is adequate and we can conect to internet via the hotspots on the phones. Streaming works well on the phones which we connec to the TV to watch movies and news.
WiFi is available at a few hotspots around the park but not at the sites. There is an outside WiFi service (JabbaSeasideWiFi) for $5.00/day or $15.00/week but the hotspots worked wee enough to cover our needs.
The TV antenna brings in 10 digital channels with ABC being the only major network.