The Masses
Today we confirmed our idea that we need to get up early and get to the park to beat the crowds.  The park service decided to do some road repairs on the only road into the park from our area.
We were delayed about 45 minutes just getting to Madison Junction.  Madison Junction is 14 mile from the park entrance and is the junction were you decide to go North towards Mammoth, or South towards Old Faithful.
It was pretty frustrating because we had no knowledge of the work being done.  We did not know it=f there was an accident, or a wildlife jam.
Biking
We brought bikes with us today to check out the trail at the end of Fountain Flat Road.  We rode the trail to the Grand Prismatic Spring Overlook trail where we turned around and headed back due to crowds.
The trail was really interesting.  We came across a couple of herds of bison and got to observe them in their domain.  Without hundreds of other people around, the bison appear to be much more comfortable.  We spent a bit of time enjoying the solitude with them.
During our ride we came across a spring and walked over to investigate it.  The spring sits right along a river where we saw a few people fly fishing, and also noticed a trail that goes along the river.  We intend to return to hike that trail.
We came across a couple who asked us how far it was to the falls.  Well there are no falls on this trail, so we talked with them a bit and found that they were looking for Fairy Falls.  We explained to them that the Fairy Falls Trail is the other side of Prismatic.  As we rode along the trail we found the tur they had missed about 3 mile away from where we saw them.
Goose Lake
On the return we took a small trail that went along the edge of Goose Lake and came across an isolated little campsite that sits right at the lake edge.  THe site can be seen in today's photo album below.
We were pretty amazed at this site.  It had a bear box and a fire pit.  the site was so peaceful and quiet.  When we got back to our truck we looked at the kiosk and discovered there are several of these sites in this area.  The sites are shown on the kiosk map below.  (Poor Quality iphone pic.)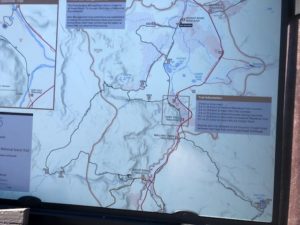 It was great to have a nice quiet ride away from the masses.  We also encountered a large number of mountain bluebirds on this trail flying around us.  Their colors were pretty intense with in the sun.  We plan to return here and do the river hike loop.
Click Here for Today's Photo Album  (iPhone pics)