Saturday
Family Time
Today we returned to Seattle for a fun day with Robb's daughter and her family.  We have not been able to visit with Amy, JT and Jude since the Covid-19 began.
We got in a bike ride with a destination – ICE CREAM!  Liz rode one of Amy & JT's e-bikes and she thought that was "pretty fun!"  I was laughing at the fact that everybody got an e-bike except the old guy.  It was a fun ride through residential streets near Lake Washington, seeing some pretty fabulous homes and views.
Jude rode his bike part of the way, including some "single track" through a park, it was a fun ride and interesting to see Amy & JT utilize the cargo bike and the 'Jude hauler'.
After the ride we had a nice time in their amazing back yard.  Jt made pizzas on their wood fired pizza oven while Amy and Liz created a salad and Jude played on his Slip 'n Slide.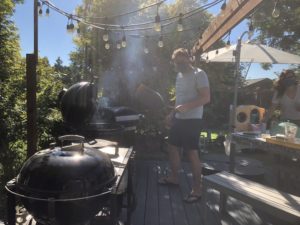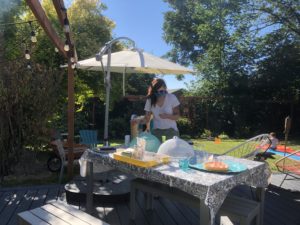 Amy & JT have been working non-stop on their yard and house since the quarantine began and have created a really great space in their back yard to relax and enjoy their family time.
It was great to visit the McHorse family.  The social distancing thing has created a new dynamic to family visits, but we are thankful that everyone has remained healthy through this pandemic and appreciate whatever time we can get to see family.