Monday
Today we drove to Seattle and parked near Gas Works Park where we started our ride on our tandem. The drive from our campground to Seattle was much longer that we had anticipated. We rode to Alki, using Lake Washington trail on the way there and back through downtown and around Lake Union. We passed through the Sculpture Park which was not really all that interesting. Although the ride was only 35 miles, we were quite tired, the drive there and back seemed to take it's toll as well.
The ride was a bit stressful as we were off course a lot (per Ride with GPS routes) and there was a lot of construction that created detours and map studying to determine a course. Anyway, we still had a good time and enjoyed the ride.  Of course we had fish & chips at Spud's in Alki.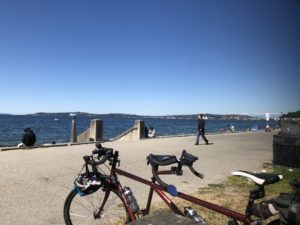 All said it was a fun day although we were pretty tired by the end of the day. We had planned further adventures in the Seattle area, but with the travel time being longer than expected we now feel we will likely remain closer to the campground.