Yellowstone RV Park at Mack's Inn
The RV Park we booked is about a half hour from Yellowstone National Park.  The only rv park in Yellowstone is at Fishing Bridge and is closed for repairs this season.  We will be staying at Yellowstone RV Park at Mack's Inn for two weeks.
We were greeted by a park staff person at the turn from the highway.  This is the standard procedure for this park.  The gentleman was waiting in a golf cart and led us to our site.  He then assisted with getting our trailer situated in the site and provided us with a packet with campground information.
The rv park is situated in the trees providing a pleasant shady environment.  The sites are arranged nicely to provide a reasonable amount of privacy in your site.
The park is located fairly close to the highway and nest to a secondary road.  Road noise is present but not horrible.
The campground is very quiet as it borders the Targhee National Forest and the other occupants were quiet.  There was an abnormally large number of ATVs and Razors.  We learned that throughout Targhee National Forest there is a vast array of trails for off-road. In fact apparently an ATV can be ridden to the Jackson Hole from here.
There are no hiking trails from this park, but you can meander around in the National Forest on what are either lightly used trails or game trails.
Connectivity
Cell Service and park WiFi are not great.  Streaming is definitely not an option here.  Internet use is very slow either via hotspot or park WiFi.
Our Site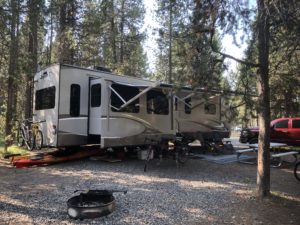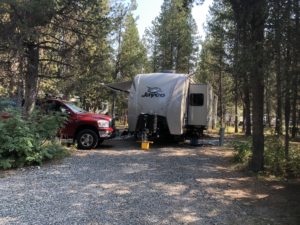 We parked our trailer and set up in Site #8.
Yellowstone National Park
We will be breaking this two week visit into two posts.  Click on the links below to see our daily activities.
Week One
Day 1 – Gibbon Falls, Artist's Paintpots, Norris Basin
Day 2 – Old Faithful
Day 3 – The Grand Canyon of Yellowstone
Day 4 – Free Day
Day 5 – Mammoth Hot Spring
Day 6 – Mystic Falls Hike
Day 7 – West Yellowstone
See All Yellowstone Photos HERE
See All of Our Travel Journal Photo Albums HERE